Radical Objects
Whether archival documents, pieces of material culture or ephemera, the historical object is at the heart of the historian's work. Here, historians, archivists and activists unpack the stories of these very Radical Objects.

Vera Mackie on the paper crane, and its development from Japanese folk practice to a symbol of anti-nuclear activism
---
Andrew Whitehead ponders the politics of a 1955 anarchist pamphlet which encouraged those going to the polls to 'Vote for Joe Soap'
---
John Marnell on MaThoko's old post box, which played an important role as a key communication node for the nascent LGBT movement in South Africa during the 1980s and 1990s
---
In our first Radical Object for the year, HWJ editor Jane Caplan looks back seventy years to 1945, exploring a very personal family object from the year of her birth, a year marked by changing politics in Britain as the Second World War came to an end
---
Sarah Hiorns explains the forgotten histories behind her family's written, typed, and laminated pasty recipe
---
Greenham and the Politics of Race and Ethnicity: A Photo of Hiro Sumpter by Ulrike Wöhr
---
The Palestinian History Tapestry aims to tell and preserve the story of the Palestinian people, their livelihoods and traditions, and their struggle under colonial rule and Israeli occupation
---

This month in Radical Objects, HWO talked to Elena Carter, a project archivist at the Wellcome Library about her work on the Medact Archive, a collection of materials relating to anti-nuclear campaigning by medical practitioners.
---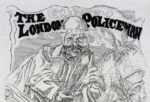 The London Policeman songsheet, the Miner's Strike and the Battle of Orgreave by Catherine Robins from the Working Class Movement Library
---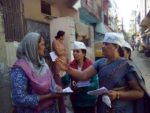 The Indian election has seen a re-invention of the country's most politically iconic headwear.
---

Sally-Ann Ashton on the evocative symbol of the black fist Afro comb
---

The birth certificate and birthday card of transgender activist, actress and fashion model, April Ashley, whose life is celebrated in an exhibition at the Museum of Liverpool until 21 September 2014
---

Melanie Hardbattle on a discovery from the history of Asian immigration into Canada, made in the Special Collections and Rare Books department at Simon Fraser University Library
---

Radical Objects: A menu of a meal at the House of Commons in London in 1909, hosted by the Labour Party leader James Keir Hardie, with Labour MPs and a South African deputation led by W. P. Schreiner
---

Jo Stanley from the Unfinished Histories project, writes on the contents of a piece of paper recording a moment in the history of alternative theatre
---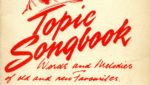 Alan Dein writes of his discovery of a 'Topic Songbook' from the 1950s, and its window into the Socialist century
---